The Bar

Our cosy bar is the perfect place to enjoy your favourite tipple whatever the season. This 16th century coaching Inn dates as far back to 1405,  still surviving are the original features and beams, which is gives the bar lots of character. It is a popular place for the locals of Abergavenny and you will always find friendly regulars and visitors alike.
If the sun is shining, take advantage of our outside tables overlooking St John's square and soak up the atmosphere of our beautiful town. We have a variety of cold and hot beverages to chose from, which are locally sourced from independent and well-known suppliers. So, whether you fancy a hot drink, a cold crisp pint, or something a little more special we have something for you!
The Kings Arms Hotel is a popular venue for tasteful live music. Jim Ramsey is our regular Friday night slot and is a well-known face in Abergavenny for his brilliant musical talent.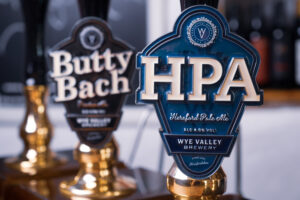 Beer, Ales and cider
We have two cask Ales from Wye Valley Brewery, a local independent brewery just across the border from Wales. Butty Bach translating to 'Little Friend' in Welsh, is a malty and fruity beer and has made many friends with our regulars. While the HPA, a Hereford Pale Ale,  is just as delicious, with its citrusy and refreshing tones. Ask a member of the bar team for a taste!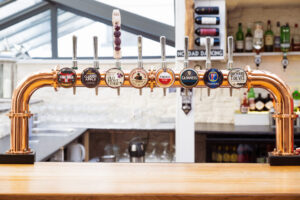 As well as cask ales we have a vast variety of popular keg lagers and ciders. We work closely with our supplier Heineken to stock well-known brands such as Birra Moretti, Amstel, Orchard thieves, Old Mout to name just a few!
Red, white, rose & sparkling
Majestic Wine is the UK's largest specialist wine retailer. The company employs more than 1,300 employees nationwide and operates more than 200 stores across the United Kingdom, we have carefully handpicked our wine list, which showcases the best quality and prices. Our list includes popular grape varieties, from a still , sparkling, and dessert wines. Take a look here to view our wine list.
Tea, coffee, cake
We proudly serve The Welsh Coffee company coffee. They are a welsh coffee roaster with one simple desire…. better coffee. Their small-batch coffees are dragon roasted by the sea and are delightful In flavour. We serve a range of hot drinks, which includes a selection of teas, coffee, and specialty coffee alongside our cake menu.
What Our Customers Say:-
First hotel visit since Covid 19 outbreak. Came down to Wales to visit elderly and poorly parents. The first visit since December 2019. The green grass of home raised a tear as I walked through Abergavenny. Welcome at the hotel was outstanding- I was upgraded to a double from the single I'd booked. Hotel gorgeous fusion of modern clean lines with Elizabethan. Room spotless and huge with loads of pillows and gorgeous throw and beams. Lovely immaculate bathroom. Staff brilliant and kind even under face masks. Fabulous fish and chips in the restaurant and lovely wine- service attentive and made me feel uplifted. Breakfast after a good night's sleep was heroic especially the Welsh sausage and bacon. Lunch booked with my parents and their dog Dai booked for 1 then heading home to Kent. God willing I will see my father again but if not this hotel was a lovely setting to say farewell. Will be recommending this hotel to friends.
Leanne@75, 13th October 2020
Wine List 2023 
White Wine
Languore Trebbiano Chardonnay, Italy.
£3.20 l £4.40 l £6.10 l £17.50
Pino Grigio Crescendo, Italy.
£3.40| £4.60 |£6.50 |£18.50
Sugarblush Hill  Sauvignon Blanc, South Africa.
£3.90 | £4.90 | £6.80 | £19.35
Valle Berta Gavi , Italy
£4.40| £6.00 | £8.40 | £23.95
Ormarine Sea Pearl Picpoul, France.
£4.50 | £6.10| £8.60 | £24.50
Wild Ocean Chardonnay, South Africa.
£4.80| £6.50| £9.10| £25.95
Kokako Sauvignon Blanc, New Zealand.
£5.50| £7.50 | £10.50 | £29.95
Rose wine
Crescendo White Zinfandel, USA.
£3.40 | £4.60 | £6.50 | £18.50
Ombrellino Pinot Grigio Blush, Italy.
£3.80 | £5.30 | £7.30 | £20.95
Nicolas Rouzet Provence Rose
£5.30 | £7.30 | £10.10 | £28.95
Chateau St Baillon Cotes de Provence
Magnum (1.5l) – £65.95
Sparkling
Bel Canto Prosecco, Italy.
175ml £6.50| £25.00
Cattier Premier Cru Brut, France 175ml £16.20 |£54.95
Cattier Premier Cru Rose, France. 175ml £17.50 | £59.95
Red Wine
Languore Sangiovese, Italy.
£3.20| £4.40| £6.10| £17.50
Valle Antigua Merlot, Chile.
£3.60| £4.90| £6.80 | £19.50
Vista Plata Malbec, Mendoza Argentina.
£4.00| £5.50| £7.70 | £21.90
Mozzafiato Primativo,
£4.60| £6.30 | £8.70 | £24.95
Ella's Ridge Pinot Noir,
Central Otago, New Zealand.
£7.20| £9.90| £13.80| £39.40
Rioja Reserva Dehesa de Gazania, Spain
£5.70 | £7.80 |£10.80 | £30.95
Terra Vega Gran Cabernet Sauvignon, Australia.
£5.90| £8.00| £11.20| £31.95
Dessert Wine
Perle D'Arche Sauternes, France
(125ml) £2.95 (37.5cl) £16.95
Cocktail List 2023 –
House Cocktails
Bloody Mary 
Espresso Martini 
Elderflower Sour 
Cosmopolitan 
Negroni 
Cocktail Specials
Passion Fruit Martini 
Blue Raspberry Spritz 
Salted Caramel Espresso Martini 
Glass or jug of Pimms 
Jug of White Sangria
Jug of Red Sangria 
Shots & shooters
Baby Guinness 
Tequila Rose 
Strawberries & Cream £3.50Skittle Bomb 
Jagerbomb