A Place To Eat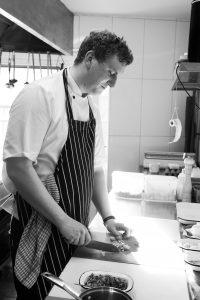 When Head Chef, Harry Rolfe, creates menus, he always considers a range of choices to suit all tastes. He only uses the freshest, finest ingredients, locally sourced, where possible, to create a menu that changes with the seasons.
Whatever your dining requirements might be, we always pride ourselves on providing a first-class, professional food and beverage service.
Restaurant service times 
Monday & Tuesday
Restaurant closed (Bar open for drinks, tea, coffee & cake)
Wednesday – Saturday
12pm – 3pm & 5pm-8pm
Sunday lunch
12pm – 4pm.
To reserve a table, please feel free to contact us on 01873 855 074 or email us at kingsarmsabergavenny@gmail.com.
---
 What Our Customers Say:-
"We were staying in Abergavenny for the weekend and decided to go out for dinner on the Saturday evening. Having chosen a certain Italian chain restaurant on the other side of town as our destination we just happened to walk past the King Arms Hotel on route. Scanning the menu board outside as we walked past it piqued our interest and we decided to just pop in and have a look.
So glad we did! The place was very inviting, nicely decorated, and had a relaxing warm atmosphere. Bar staff were courteous and when we decided to change our plans and eat there instead we were accommodated with no problems. The restaurant was fairly busy but service was still very efficient and the food we had was excellent, a notch above your standard gastropub faire. We will definitely eat here again next time we are in the area. Keep up the good work." – John W via TripAdvisor